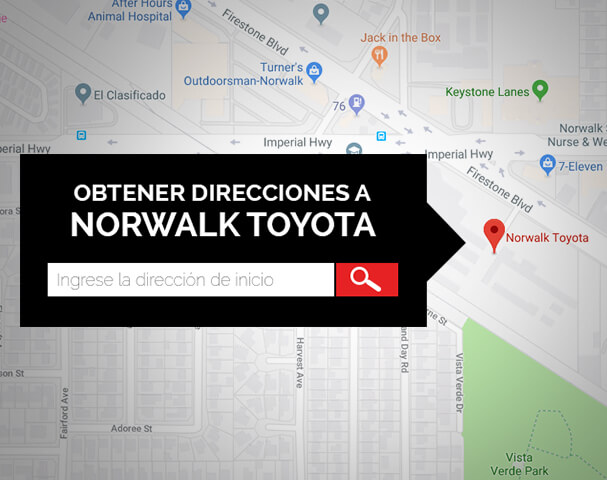 Le invitamos a visitar Norwalk Toyota Hoy
Con nuestra ubicación en Norwalk, CA, nuestra excelente representación de Toyota es fácilmente accesible a los conductores de todo el condado de Los Angeles. Norwalk Toyota se encuentra en 11404 Imperial Hwy, Norwalk, CA 90650, justo al este de la I-605 y al oeste de la I-5.
Los visitantes del Norte pueden tomar la I-5 Sur. Salir Pioneer Blvd hacia Imperial Hwy.Hacer ligeramente a la derecha en S Pioneer Blvd y gire a la derecha en la CA-90. Hacer un cambio de sentido en Orr y Day Rd, y tomar ese último giro a la derecha en Orr y Carretera de encontrar Toyota Norwalk a su izquierda.
Nuestros vecinos del Sur pueden utilizar la I-5 Norte y la salida Imperial Hwy hacia Pioneer Blvd. Gire a la izquierda en la CA-90, y hacer un cambio de sentido en Orr y Day Rd. Tome la última a la derecha en Orr y Día Rd y nos encontrará a su izquierda
Para obtener más información, contacte con uno de nuestros miembros del equipo de amistad, y estaremos encantados de mostrarle el camino a Norwalk Toyota en el área de Los Ángeles.
We Invite You to Visit Norwalk Toyota Today
With our convenient location in Norwalk, CA, our excellent Toyota dealership is easily accessible to drivers throughout Los Angeles County. Norwalk Toyota is located on 11404 Imperial Hwy, Norwalk, CA 90650, just east of the I-605 and west of I-5.
Visitors from the North can take the I-5 South. Exit Pioneer Blvd toward Imperial Hwy. Make a slight right at S Pioneer Blvd, and turn right at CA-90. Make a U-turn at Orr and Day Rd, and take that last right turn on Orr and Day Road to find Toyota Norwalk on your left.
Our neighbors from the South can use the I-5 North and exit Imperial Hwy towards Pioneer Blvd. Turn left at CA-90, and make a U-turn at Orr and Day Rd. Take that last right at Orr and Day Rd and you'll find us on your left
For more information, just contact one of our friendly team members, and we'll be glad to show you the way to Norwalk Toyota in the Los Angeles area.
Service Informational Videos
The
Norwalk Toyota

Service Center Promise
Norwalk Toyota is committed to providing the care and expert service that our guests come to trust. Our Toyota-trained technicians have spent thousand of hours understanding each and every Toyota vehicle and use only Genuine Toyota parts to service and repair your Toyota. Come see for  yourself how our team of experts help keep your Toyota a Toyota. Norwalk Toyota is conveniently located in Norwalk, servicing Toyota's throughout the area. Norwalk Toyota has expert technicians on staff to handle your repair needs or oil changes, tire rotations, batter replacement, brake repairs, and all other Toyota Factory Schedule Maintenance.